Sir Herbert Austin
Herbert Austin was born at Little Missenden, Buckinghamshire, on the 8th of November 1866. His father Giles Stephen Austin was a Yorkshire farmer. His mother was Clara Jane Austin (nee Simpson).
In 1884 after completing his early education, Herbert moved to Melbourne with his uncle and served an apprenticeship in engineering at Langlands Foundry. He later became the manager of Wolseley Sheep Shearing Company. He returned to the UK with this company in 1893 and soon became the production manager. Long journeys into the Australian outback gave him an insight into the need for petrol driven vehicles and in 1895 he produced the first Wolseley car (a three wheeler). In 1900 Austin completed his first Wolseley four wheel design. Herbert also served on the board at Wolseley and chaired the board from 1911.
In 1905 Austin started his own company with 20,000 pounds capital, the Austin Motor Company, located at Longbridge, Birmingham. He produced 120 cars in 1906 and by 1914 the company was producing more then 1000 cars with 2000 employees. Herbert Austin was knighted (K.B.E.) in 1917 for his services to the war effort. Herbert also held public office and was a Conservative member of the House of Commons from 1919 to 1924 for Kingís Norton division of Birmingham. Herbert Austin was made a Baron in 1936 for his philanthropic efforts. These efforts included support for the Birmingham General Hospital, the Birmingham United Hospital, the Royal Cancer Hospital (London) and Rutherford research at the Cavendish Laboratories. He was a draftsman, skilled engineer and sales organizer, who rose to the top by foresight, determination and hard work. In 1887 Herbert Austin married Helen Dron of Melbourne (who passed away in 1942). They had two daughters and one son who was killed in France during World War I .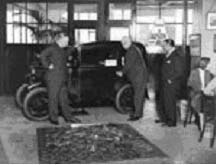 Sir Herbert Austin died at his Lickey Grange home on the 23rd of May 1941.
Stanley Edge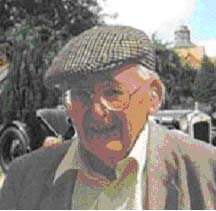 Stanley Edge was born on the 5th of August, 1903.
He left school at the age of 14 and entered the drawing office of the Austin Motor Company.
He made an extensive study of cars and engines and was a natural draftsman. Herbert Austin admired his work and in 1922 employed Stanley to draw detailed plans for his new project - the Austin Seven. Edge designed the motor and transmission and worked with Herbert Austin on the other parts of the overall Seven design.
Stanley Edge lived with Herbert Austin during this time and full size drawings were reportedly made and studied on Austinís billiard table. Drawings were finalized in 1922 and the 6 prototypes soon followed. Edge returned to the Longbridge drawing office in 1922 with the aim of reducing production costs. He was involved in the design and production of racing Sevenís and became well known to Arthur Waite, Austinís son in law who became famous for his racing efforts. In December 1925, Edge left Austin Motor Company and joined a firm of agricultural engineers. He worked on numerous engineering projects before returning to Austin the following year. Stanley Edge passed away 2 weeks before his 87th birthday.